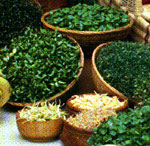 Medicinally and nutritionally, sprouts have a long history. It has been written that the Ancient Chinese physicians recognized and prescribed sprouts for curing many disorders over 5,000 years ago. Sprouts have continued to be a main staple in the diets of Americans of Asian descent, but it took centuries for the West to fully realize its nutrition merits.
In the 1700's, sailors were riddled by scurvy (lack of Vitamin C) and suffered heavy casualties during their two to three year voyages. From 1772-1775, Captain James Cook had his sailors eat limes, lemons and varieties of sprouts; all abundant holders of Vitamin C. These plus other fresh fruits and vegetables and a continuous program of growing and eating sprouts were credited with the breakthrough, thus solving the mariners' greatest casualty problem.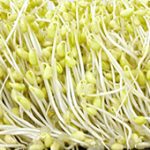 It is really only in the past thirty years that "westerners" have become interested in sprouts and sprouting. During World War II considerable interest in sprouts was sparked in the United States by an article written by Dr. Clive M. McKay, Professor of Nutrition at Cornell University. Dr. McKay led off with this dramatic announcement: "Wanted! A vegetable that will grow in any climate, will rival meat in nutritive value, will mature in 3 to 5 days, may be planted any day of the year, will require neither soil nor sunshine, will rival tomatoes in Vitamin C, will be free of waste in preparation and can be cooked with little fuel and as quickly as a … chop."
Dr. McKay was talking about soybean sprouts. He and a team of nutritionists had spent years researching the amazing properties of sprouted soybeans. They and other researchers at the universities of Pennsylvania and Minnesota, Yale and McGill have found that sprouts retain the B-complex vitamins present in the original seed, and show a big jump in Vitamin A and an almost unbelievable amount of Vitamin C over that present in unsprouted seeds. While some nutritionists point out that this high vitamin content is gained at the expense of some protein loss, the figures are impressive: an average 300 percent increase in Vitamin A and a 500 to 600 percent increase in Vitamin C. In addition, in the sprouting process starches are converted to simple sugars, thus making sprouts easily digested.