Avocado and Sprout Toast with Goat's Cheese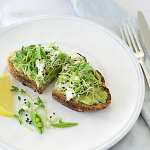 8 slices wholegrain bread
2 ripe avocados
juice of 1 lemon or lime
1/2 box Pea shoots (<p class="p1">halved and tails discarded</p>)
100g Goat cheese (chèvre)
1/4 cup onion sprouts
Handful sugar snap peas (sliced)
A few sprigs Mint
Toast bread slices.

Scoop flesh out of avocados and mash roughly.

Stir through lemon or lime juice and season with salt and pepper.

Spread avocado over toast slices.

Top with Pea Shoots, goat's cheese, onion sprouts, sugar snap peas and mint.
This recipe has been taken from Trevor's Cookbook, courtesy of Aussie Sprouts.
Trevor's Cookbook is free.  It is 16 pages long and will download quickly.
Click HERE to download Trevor's Cookbook.