Inspiration for this great salad came from a Gourmet magazine adapted yellow beet carpaccio. The beets' golden color screams fall, but the freshness of sprouts seemed almost unseasonal. Both being great sources of Vitamin C, I thought them an interesting pair in the need for C at this time of year.
A super simple lemon vinaigrette has the right balance for the variety of flavors happening:
Golden beets, carrots, raspberries, toasted cashews, arugula with a blend of radish and clover sprouts.

Beet Carpaccio Salad
As adapted from Tom Hirschfeld, as adapted from Gourmet magazine
Roast the beets a day or 2 ahead and they will be perfectly ready to peel and slice when you are ready to assemble the salad. It's really a matter of minutes to prepare.
2 golden beets
3 oz arugula
2 oz radish and clover sprouts
1 cup raspberries
1/4 cup roasted cashews
2 raw carrots, cut into slivers
lemon vinaigrette:
1/2 lemon squeezed
3 TBS extra virgin olive oil
1 tsp kosher salt
freshly ground black pepper
Preheat oven to 350º
Scrub the beets well, brush with olive oil, season with salt and pepper, and roast for 1 hour and 15 minutes. A knife should easily pull out of the center when done. Cool the beets while covered, then peel off the skins.  I found it easiest to cut into 1/4″ slices, then halve the slices laying flat on the board.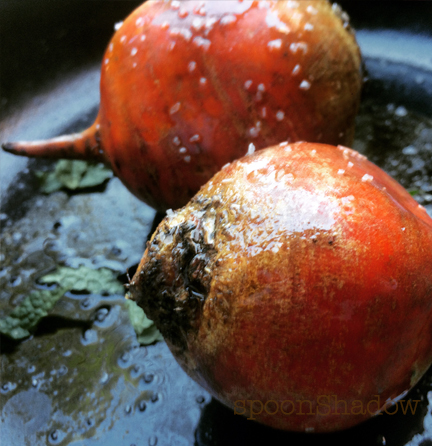 Whisk together the vinaigrette.
Combine arugula and sprouts and dress with 1/2 of the vinaigrette, season with salt and pepper.
Place dressed greens on a platter, create a serpentine or other shape with the beet circles, top with a bit more dressing. Finish by adding the rest of the toppings, drizzle with remaining vinaigrette.